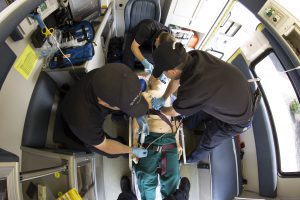 Iron Sharpens Iron
DCEMS's medical director, Ashish Panchal, MD is actively involved with the department. He's especially passionate about improving patient outcomes in the prehospital setting and conducting research focused on prehospital airway management and improving outcomes from cardiac arrest. It's this commitment to excellence and training that makes each of us better emergency medical providers. 
---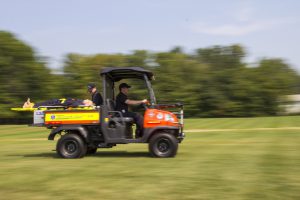 Training
It's a big commitment to stay up-to-speed on the latest healthcare practices and technology. DCEMS is committed to monthly, ongoing training in order to provide the best patient care possible. And although we would prefer that the community is safe and healthy, ongoing training provides a solid foundation of skills for when duty calls. 
---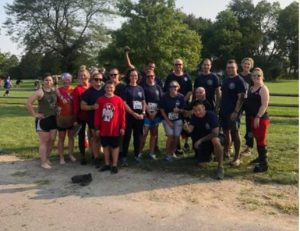 Health and Wellness
In order to provide for our families and support the community, our health and wellness need to be at the forefront. DCEMS is committed to coming alongside our first responders by providing exercise programs, nutritional support, and mental health resources. DCEMS's greatest asset is our employees, and we make it a commitment to care for them to the best of our abilities.  
DCEMS was featured in JEMS for Integrating a Wellness Program into Your EMS Service. Read the article on JEMS.com 
---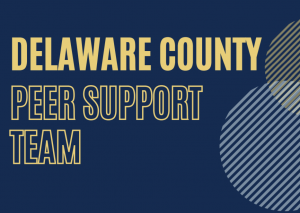 Peer Support Team
The Delaware County Peer Support Team is a multi-discipline team that consists of Dispatchers, Fire, Law Enforcement, Corrections, and EMS. This group of trained first responders provides assistance in times of crisis for public safety personnel. The focus of the group is to minimize the harmful effects of stress, particularly those arising from the crisis. In order to minimize these effects, the group will utilize group incident defusing and debriefings in a confidential environment. The peer team will provide crisis intervention and support with a pathway to professional resources when needed. Additionally, DCEMS utilizes the Cordico App which is available to all Fire and EMS in Delaware County and was provided by the support of the Delaware County Board of Commissions via the Pre-Hospital Care Board. 
---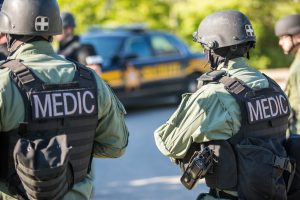 DCEMS Rescue Task Force Training
The concept of the Rescue Task Force (RTF) is a model that enables emergency medical services (EMS) to provide emergency medical intervention faster and within the Incident Command System (ICS) construct. Fire/EMS go in with Police to reach victims faster. DCEMS participates in cutting-edge simulations alongside other first responders to be prepared should the need arise. 
---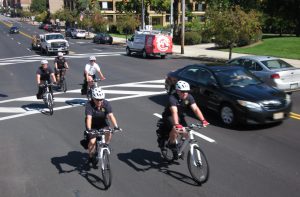 DCEMS Cycle Response Unit (CRU)
 EMS needs to be able to go where the people go. The DCEMS Cycle Response Unit consists of EMS providers that are specifically trained to respond in austere environments and special events like the Delaware County Fair, marathons, obstacle course events, and more.  
---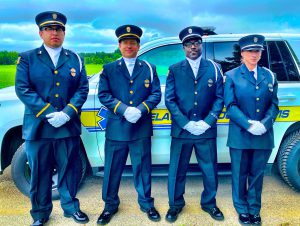 DCEMS Honor Guard
The mission of the Delaware County EMS Honor Guard is to honor the sacrifice and service of present and past Fire, EMS, and law enforcement professionals. We strive to show dignity and respect to all public service professionals and their families.
Presenting our Nations Colors at ceremonies, events, parades, funerals, promotions, and competitions.
Assisting with coordination of funeral arrangements, swearing-in, and promotional ceremonies.
Casket Watch with changing of the Guard and folding of the Flag.
Marching in parades and ceremonies.
---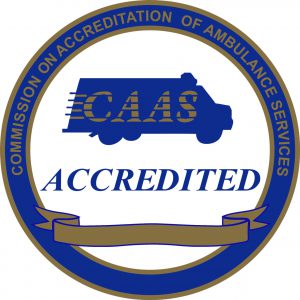 CAAS Accredited
CAAS accreditation signifies that DCEMS has met the "gold standard" determined by the ambulance industry to be essential in a modern emergency medical services provider. These standards often exceed those established by state or local regulations. The CAAS standards are designed to increase operational efficiency and clinical quality while decreasing risk and liability to the organization.
---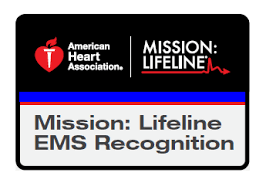 American Heart Association, Mission: Lifeline® EMS Recognition
Mission: Lifeline EMS recognition is a program designed to showcase Emergency Medical Service organizations across the nation for excellent STEMI and Stroke care. Prehospital personnel is the first providers of care to patients suffering from these emergencies. The role of EMS in the system of care for these patients is crucial and often sets the course for the patient's outcome. The Mission: Lifeline EMS recognition program was launched in 2014 and continues to celebrate the achievement of the pre-hospital providers and their collaboration with each other and destination hospitals specific to STEMI and stroke care.
---